En verano damos cursos intensivos preparatorios para los exámenes de Cambridge English: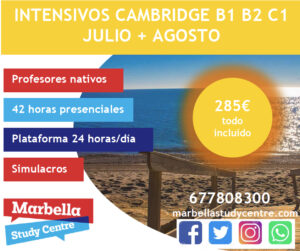 MODALIDAD: 42 horas de clases presenciales
EXTRA: acceso 24 horas a plataforma digital con +550 ejercicios
DÍAS: mar / mie / jue
FECHAS: 13/07/2021 – 26/08/2021
HORARIOS: 09:30-11:30, 11:45-13:45, 20:00-22:00
PROFESORAS: nativas y muy experimentadas
GRUPO: Min. 3 alumnos. Max. 9 alumnos
PRECIO: 285€
MATERIAL: incluido
MATRÍCULA: gratuita
Derechos de examen a parte
SIMULACIONES DE LAS PRUEBAS ESCRITAS Y ORAL INCLUIDAS
Solicite su plaza para nuestros cursos intensivos aquí
Los cursos intensivos de verano son idóneos para alumnos, estudiantes y adultos que ya tienen conocimientos a los niveles de B1, B2 y c1 y quieren centrarse en el formato de las pruebas oficiales de Cambridge English con el propósito de mejorar sus habilidades en cada parte del examen para presentarse en las convocatorias oficiales. Le ofrecemos la mejor preparación a través de sesiones dinámicas en las que descubrirá trucos, consejos y técnicas que se puede emplear en el examen.
Fuera del aula tendrás acceso gratuito 24 horas al día a una plataforma digital con más de 500 ejercicios. Los ejercicios serán corregidos para que pueda aprender de los errores y saber el porqué de los fallos.  Además, podrá seguir su evolución y estadísticas en tiempo real.
Gestionamos su matrícula para las convocatorias oficiales de las zonas de Marbella/Estepona, Málaga y Campo de Gibraltar. Pida fechas de los exámenes en la oficina o ponerse en contacto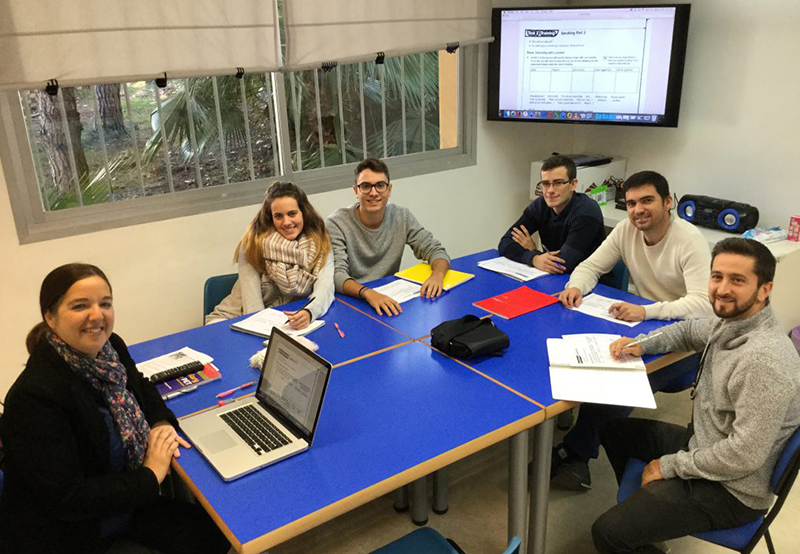 Miss Lili –   Para aprobar el examen de Cambridge B1 me parece importante estar bien preparado y sobre todo tener una buena base de vocabulario y habilidades. En mis cursos intensivos trato de cubrir los temas de vocabulario más importantes además de las diferentes habilidades necesarias para aprobar el examen. Las clases son variadas, con muchos juegos y actividades para aprender disfrutando, pero sobre todo ¡aprobar el examen!
¿Por qué prepararse para el examen de Cambridge B1 Preliminary? 
"Hello! I'm Carlos C. I'm going to write some reasons becouse I'm learning English. First of all, I need to achieve the B1 level because I need it to get my university degree, and once it, I will try apply for a Master's degree in Málaga University, and also I would like to increase my level of English for my future."
Ezequiel G:  I'm learning English because I would like to improve my level. I'm also learning English because it's very useful for my job.   Finally, in my opinion, English is very important for the access to any future job, for travelling, and even your daily life.
Solicite su plaza para nuestros cursos intensivos aquí
Política de Cookies 
Política de Privacidad
Aviso Legal